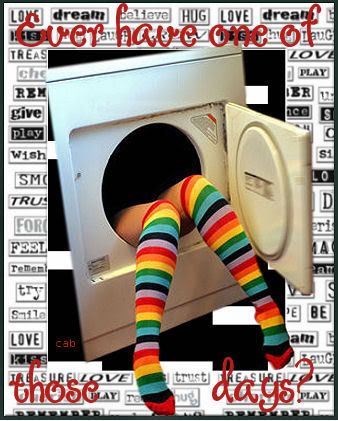 Actually, for once I didn't have one of those days but most times I feel like my head is stuck somewhere it shouldn't be.
On to my title today, I know everybody has "that" house in the neighborhood that goes so far with decorating that it's downright tacky. LOL..well, just when you thought I was bordering tacky with this "house" of mine here at Blogger, I had to go and add more toys. Oy, lol. I think that after a day or two, I will go back to my plain old white (in fact I'm sure I will) unless I make my own background. Thanks, Indigo! Obviously, I found the web site. I'm going to mess around with making my own when I get some time. Anyway, indulge this old crow for a day or two.
My BF and I went out last night to watch the football games at the Days Inn lounge. He was my DD. It was a very good night. He did super well because the crowd was small. I actually got to spend the night.
I called the dealership about my service engine light today. It's a second generation thingie and has to do with emissions. They said to just let it go. It may go off by itself in a week or so. It probably is a sensor. I'm not sure if it's covered by my warranty or not. I may have my son take it to the place he used to work and put it on the computer to make sure it's nothing essential. I really don't think it is but Megan is going to DC with it on Halloween weekend.
Becky continues to feel somewhat better each day. Megan is having a heck of a time with her job applications. She graduates in two months and has been getting flat out turn downs. She is having a heck of a time finding a part time job in the meantime. Betty, I told her about your prayer list and to be positive. She just laughed and asked that you pray extra hard for her because she doesn't feel lucky.
Whoo hoo, I gave my BF his scale back after he got home from the hospital because he needed to make sure he wasn't retaining water. I was shocked when I stepped on it last night and lost 5 more lbs. Probably about 12 since July. I guess the walking and tweaking the diet a bit is helping. Since I'm tall, my clothes are only starting to get loose.
I still didn't get my outside decorations up yet. Dang, I'm lazy. I did buy a scarecrow but refuse to pay $6 for a bale of hay so back to Walmart for cornstalks and pumpkins. I was supposed to do that today but did nothing except grill a pork roast and potatoes. And back to work again tomorrow. Where does time go when you aren't at work??????
Happy fall, ya'll....it's still warm but air has that fall scent to it. HUGS n LOVE CHRIS