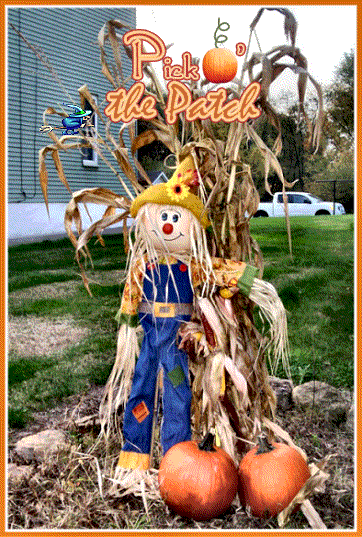 Tada...lol. This is the extent of my fall decor outside. It's located in my wildflower patch. It used to have a really neat split rail fence around it but the darned thing rotted out. I didn't get it replaced this past summer. ::sigh:: shooting for next year.
My pumpkins got rained upon, as you can tell, but I had to add an animation which distorted the pumpkins' color in the animation shop. Oh well. I was going to get a couple of mums but I always kill em, and they looked half dead already in the store.
So, my adventures into craziness this week have been driving me nuts. I took my car to Auto Zone. They run the computer scan for free to trouble shoot the service engine light. It came out with something to do with gas and vapors. Said to check the gas cap. Well, my gas cap was totally off and very neatly laying inside next to where you put your gas into the car. The ouside door thingie was closed. I got gas Thurs night, put 145 miles on the car and the light came on Saturday afternoon. Nothing makes sense. If I had driven away without putting the cap on, it would have been flying around with the door open. But for two days and that many miles. If somebody was syphoning, would they be so anally neat if someone almost caught them? Seriously doubt it. I almost feel it was done on purpose but who the heck would do it? I don't know anybody where I live. So odd....but eerie so now I obsessively check my gas cap constantly.
Then yesterday, I get off of the bus, and my keys weren't in my purse. Ugh... my BF was bringing my spare set down to me but my son had night school and the house was locked. When my BF got down there, I picked up my raincoat that I was dragging around and heard a jingle. The keys....I was relieved but thinking I'm losing it for sure.
Then I get home and could not find the shampoo I bought on Saturday anywhere. The pretty little bag with the pink tissue paper was under the sink; shampoo nowhere to be found. I tore the house apart. Then I was going to bed. LOL...it was on Megan's night stand. It was black and upside down and looked just like the remote. I swear I am sooooooo absent minded.
I'm thinking my dog needs a walk. We've had some rain, and it's chillier so we've been lazy at night again. I'm still keeping up with the walks at lunch.
Here's a Halloween snag. Where is time flying to? HUGS CHRIS