I think I missed Thankful Thursday by a long shot. I wanted to do this entry last week but ended up with some sort of bug. I pushed myself through work. It's actually gone away, thank goodness. What am I thankful for right now? A smile on Becky's face :)
Actually last week started off great. Both my girls took me out to lunch on Monday. Becky hopped on the bus and came into the Burgh to meet Megan and me. Just a short 5-10 minute trip for her. What a joy to see a smile on her face again and to see her actually eating. She seems to be doing quite well. Thank you all for keeping her in your thoughts, prayers, etc. I did find out she has a new romance budding on the burner. Oy, those rebound romances. Oh well...I also want to thank Sugar, Teri, Joan (dang, can't remember who else) who nominated me for the Marie Antoinette Award. I'm supposed to pass it on to 7 people but I'm so far behind that it appears that most have gotten it already. I love to see a piece of JLand resurging.
I was in a tag/graphic rut. Now, I'm posting a bunch of Thanksgiving tags almost after the fact. Actually, I had them made but didn't like em. Pretty typical for me.
So, anyhoo, I got a phone call from Joey at work on Thurs. He had just gotten home from school and was doubled over in pain. Sort of sounded like appendicitis to me but he has a hernia on that side. Silly me asked if he could wait til I got home from work and then even sillier me asked if he could drive himself to the hospital. I had no way to get home for at least 2 hrs. I called my BF who took my son to the ER. They were still there when I got off the bus so straight to the hospital I went. Turns out the hernia is huge. The doctor can stick his finger through the hole. My son needs surgery. He's scheduled to see the surgeon on Dec. 8th. I'm praying it can be done before the end of the year since I've already met the deductible.
Grizzly's ear is fine. I'm not sure why he was still shaking his head. The vet said he still had some medicine in there. He actually allowed them to totally clean his ears out. But, he should have been whooped by then. He made a total "jackass" out of himself in the waiting room. I mean he acted up soooo bad.
I'm off today because I'm having the pleasure of meeting my new family doctor. What is nice is that he is located at the bottom of my hill. No more hour trips to Pittsburgh if I get strep. Another thankful is that my stress test came back fine; no blockages. No results from the lipid panel yet. Boy, is that lab slow. Ugh, though, I know I have to get on that scale. I haven't been walking because I HATE cold weather....HATE IT! LOL, I'm not kidding. I absolutely do not like cold weather at all. I would love to hibernate. I wish I could retire and be a snowbird. Not gonna happen for a very long time. Megan is out running. Am I gonna walk? Heck no. Because I can't stand being cold, out in the cold, shopping in the cold, etc.
I've rambled on enough. I hope you all have wonderful Thanksgivings here in the US. I go to my brother's house, nuff said. I make Megan a turkey with gluten free stuffing and her own gravy and take it for her. I won't go into why I don't care for Thanksgiving yet another year. I am thankful my SIL is alive and well and survived her terrible crisis but nothing has changed otherwise. I am very thankful my mom is still here to celebrate another Thanksgiving with us.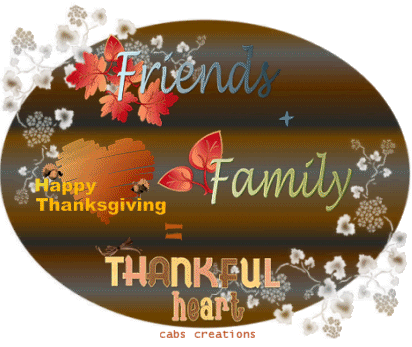 Love n HUGS CHRIS