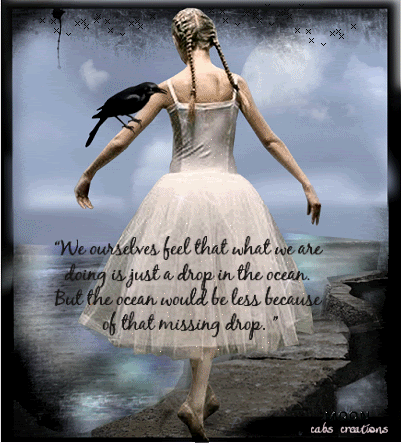 Moods are definitely a strange thing. Maybe it's the darkness that descends upon us as winter approaches. It's not that I'm depressed. Just sort of dreading the cold. Today is beautiful. It will definitely feel like winter this weekend. I don't like the barren look of the trees right now. Hillsides appear gray. Luckily, some trees still have a few leaves so the afternoon/evening sun shines a goldish color through them.
Sometimes, I think many of us feel insignificant in the scheme of things. I love the phrase on the tag above. Many times, I feel that I am but a tiny little drop in a huge sea; as we all are. But take all those tiny drops away, and what would we have?

I'm also in a PSP rut which does happen quite a bit. I usually see something I like and voila....there's a graphic. Nothing is jumping out at me. LOL..well, the more serious, darkish stuff seems to be.
So, today I went for my stress test. I really did far better on the treadmill than I have in the past. Chalk that up to being almost totally smoke free plus a few months of walking. Still, it makes me nervous.
And I got my haircut last Saturday. Oy, my girl was way too scissor happy in the back. It was fine when she put the gel in herself. Utterly impossible for me to keep my scalp from showing at times. It was probably my fault because it was growing out in less than a month so I asked for shorter; just can't handle it. It best grow fast.
Grizzly goes back to the vet tomorrow. His infection is back. Poor guy is shaking his head again like crazy. I have to laugh when they say I'm going to have to cleanse his ears before the drops. Lots o luck with that one. He has the adrenaline of Superman when you try to mess with him.
Soooooo, anywho, my week in a nutshell. I worked Wed and Thurs this week...whoo hoo. Had the stress test today, my lipid panel was on Tues. I could get used to this plus I got quite a bit of cleaning done. My walking suffered. I need to work out a winter plan here.
TGIF! I'll post some Thanksgiving/fall/winter, etc. tags later on. I need to catch up on my blog reading. Later.....HUGS CHRIS